We believe we have some of the finest scenery in our Unesco World Heritage Site – the Lake District National Park .
Whether you want a short stroll, or an all day hike check out some ideas here, and ask our team at Underscar reception for ideas too.
Obviously dress for the weather, take an OS Map too as not all GPS trackers work when you may lose signal up on the fell.
There are many outdoor stores stocking walking essentials in town, so have a browse for what you need.
Here's just a few of our favourites…
---
Cat Bells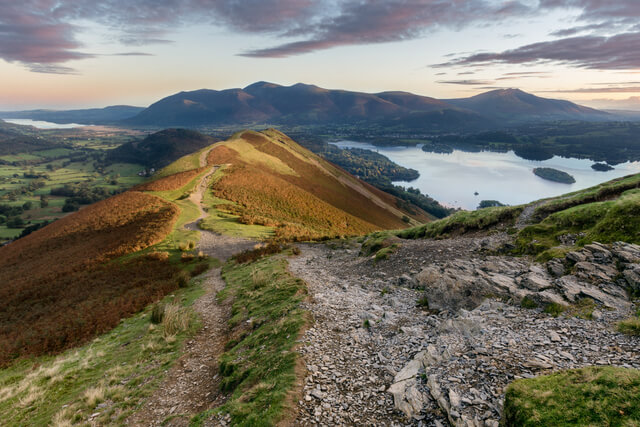 And you can see the lake and Catbells from all our Underscar apartments! 
One of the most popular fell walks here,  due to its superb views and relatively short duration. Cat Bells is suitable for walker of all abilities and showcases the best of the Lake District. Its wonderful in all seasons, but when the autumn colours arrive, and early winter with a dusting of snow, its just breathtaking.
Starting point: Hawes End Landing Stage – arrive by boat for extra enjoyment.  Derwent Launch timetable here
Distance: Approximately 3.5 miles/5.7 km
Time to complete: 2-3 hours
---
Ashness Bridge and Surprise View
Living up to its, name,  take a stroll to the iconic Ashness Bridge and enjoy the 'surprise' view.  Board the Keswick Launch to Ashness Pier where your walk will begin.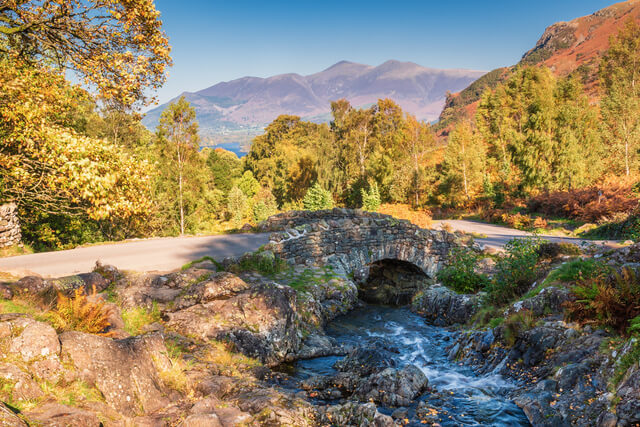 With spectacular views along the Derwentwater valley, and over to Catbells, you'll discover even more from Surprise View further along the trail. Perched on a cliff above Derwentwater, views stretch as far as Bassenthwaite Lake.
Starting point: Ashness Pier
Distance: Approximately 2 miles/3.2kms
Time to complete: 1 hour
---
Blencathra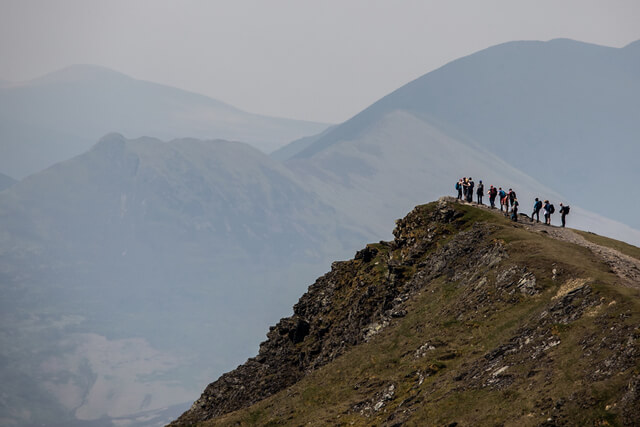 Blencathra is one of the finest of the Lake District fell walks and is also known as Saddleback, 
There are several routes to approach Blencathra summit depending on experience and ability but be aware it is a challenging and exhilarating scramble up Sharp Edge. A grade 1 scramble, this route isn't for the fainthearted!
Starting point: The car park next to The White Horse
Distance: Approximately 7 miles/11.3kms
Time to complete: 4 hours
---
The Bowder Stone walk is a short, woodland walk beginning at the National Trust car park.
The Bowder Stone is a big rock, six times the height of a person, the reason it beguiles travellers to the Lakes is the fact that it is balanced improbably on one edge.
As you walk up to touch it, you feel the enormous bulk of it looming over your head, giving a taste of that 'pleasurable terror' which was so popular with Georgian tourists who enjoyed wild, romantic scenery and the frisson of experiencing danger from a safe distance.
Starting point: Bowder Stone National Trust Car Park
Distance: Approximately 1 mile/1.6km
Time to complete: 30 minutes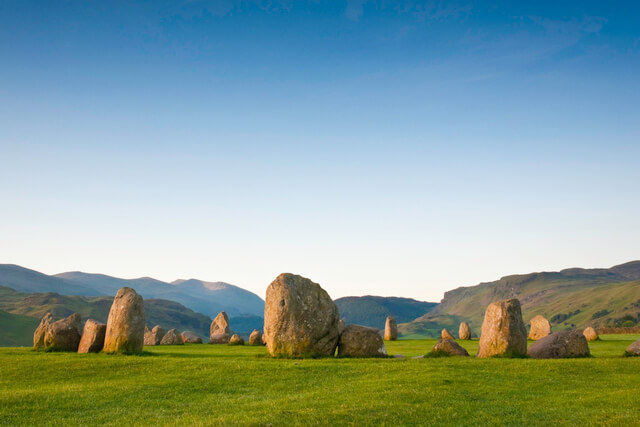 This ancient prehistoric stone circle sits in a field near Keswick, with parking in the lane nearby, and a short stroll takes you to the circle.
With a backdrop of the Lake District fells, it is a truly magical spot especially at sunrise or sunset.
Further afield…..
---
Haystacks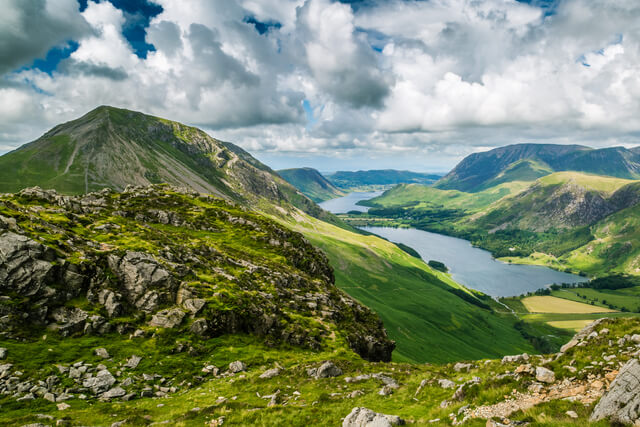 This fabulous fell walk begins from Gatesgarth Farm on the edge of Buttermere lake.  It was the favourite fell of AW Wainwright, who chose to have his ashes scattered here.
With its fascinating ascent, unique rock formations at its peak, and breathtaking panoramas, this mountain is a fantastic choice for a hike.
Starting point: Gatesgarth Farm
Distance: Approximately 5 miles/8kms
Time to complete: 3-4 hours
England's only true mountain forest, Whinlatter lies a few miles west of Keswick and offers cycle and walking trails.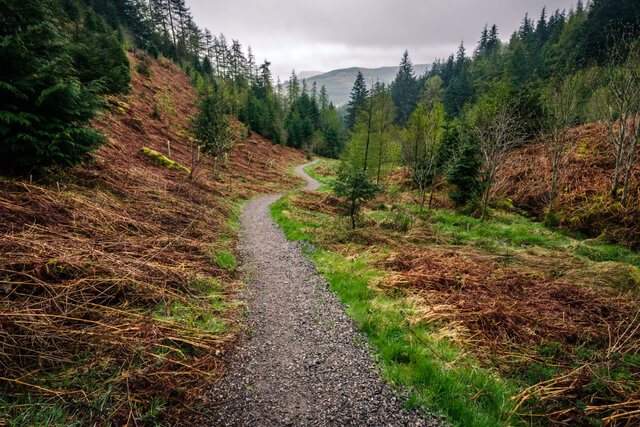 Cyclewise Whinlatter offer on-site bike hire, and plenty of trails to choose from. There's even training courses available.  There is a fantastic network of walking paths too.   For extra excitement there is a Go-Ape treetop course.
The Whinlatter Wild Play Trail has 9 different play areas for children of all ages.
There are also two children's discovery rambles to help your family explore the forest.