If you're a regular visitor to our home town of Keswick, you'll know that it does occasionally rain – after all as everyone says 'thats where the lakes come from'.  As well as being the 'adventure capital' of the UK, there's lots to do indoors too. 
 Read on and get planning your visit for that rainy day……..
We are so lucky to have our own theatre and cinema in the town, where you can enjoy top films and plays in a lovely setting.
Sat right on the shores of Derwentwater, the Theatre has a year-round programme of plays, musicals, lectures & films, and always something seasonal for school holidays to take the whole family along to and always an interesting Christmas offering.
With an on-site café and bar its a great place to call in for refreshment too if you're down at the boat landings.  
This classic 100 year old cinema has been beautifully refurbished, is open 7 days a week, runs with all the big films of the moment, and some classic art films.  They also offer parent & baby and 'relaxed' screenings, as well as a Film Club every Sunday evening offering world-class film selections.
Did you know –  The Derwent Pencil Museum is the home of the world's very first pencil, with graphite mined from the Seathwaite Mine in the Borrowdale Valley.
Discover the history of pencil-making, see the world's longest pencil,  and see how Derwent Fine Art Pencils are made today. There's also a replica of the Seathwaite Mine, where graphite was first discovered.  You'll also find lots of activities for families, along with artists workshops.  And of course a shop to pick up your very own packet of pencils.
The Puzzling Place
Here you'll find an interactive excursion into the world of optical illusions!  Explore the 'Anti-gravity Room', 'Ames Room', 'Hologram Gallery' and 'Eyelusions Exhibition'. It's a fascinating, fun and social excursion into the world of optical illusion, which will leave you quite literally, not believing your eyes! Enjoy the experience with friends or family, however young or old.
Open 10-5.30 last entry 4.30.
Keswick Museum
Situated in Fitz Park, the Keswick Museum and Art Gallery is a must, showcasing the stories of local people, places, and artefacts.
There's always interesting and changing exhibitions and activities, so be sure to check out what's on ahead of your visit.  
____________________________________
There's a range of galleries local to Keswick, including The Northern Lights Gallery, The Cookhouse Gallery and Gallery 26. You'll find exhibitions of contemporary art alongside paintings of the Cumbrian countryside. 
---
Shopping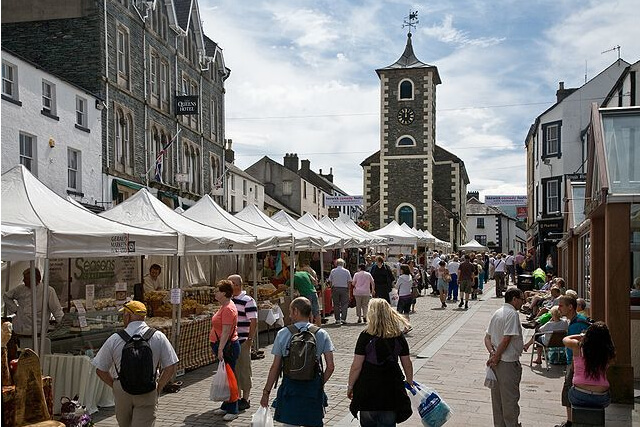 Even on a rainy day, the pedestrianised town centre offers a relaxed browsing and shopping experience.  The streets are lined with individual friendly local shops always a great option for browsing along with a cuppa at one of our many cafes to shelter from the weather.
The award winning market happens in our elegant square every Thursday and Saturday, and is a real buzzy atmosphere with lots of interesting stalls to browse.
Independent shops  welcome you in for browsing, and if you need new outdoor gear there's plenty of choice here too.  
Food and wine needed? Enjoy our northern version of Waitrose: Booths supermarket, in the centre of the town, selling quality food, wine and produce. There is also a Co-op supermarket. Up and down the high street and in the little lanes you'll find lots of options for cafes, pubs and restaurants.
Further afield, at Penrith,  both the Rheghed Visitor Centre and Cranstons Food Hall offers a superb range of regional food and produce.
A lovely way to spend time browsing and treating yourself whilst supporting local businesses.
Eating & Drinking
Keswick is home to a fabulous collection of bars and restaurants, sure to suit all tastes and budgets.
Local favourites include the Derwent Walker Cafe Bar, The Round and The Fellpack. For a touch of luxury the Michelin-starred restaurant, The Cottage in the Wood is nearby.  The Dog and Gun on the market square is a traditional pub with traditional food, and its 'world-famous' Goulash.
Keswick has many festivals including the Keswick Beer Festival in the late summer.
The Old Keswickian Fish and Chip Shop is found in the Market Square and you'll find a choice of Thai, Chinese and Indian for other takeout options.
---
Keswick Launch
Majestic lake cruises offer an alternative way to explore. Visit the Keswick Launch and enjoy a leisurely boat trip across Derwentwater, even on a dull or rainy day the lake is always breathtakingly beautiful, and their indoor cabin is heated and serves hot drinks and snacks.
We hope to welcome you to Keswick for a short break, whatever the weather! 
Don't forget all our apartments have full use of the pool and spa, and you can book a treatment with our therapists.  A lovely way to spend a rainy afternoon. 
---